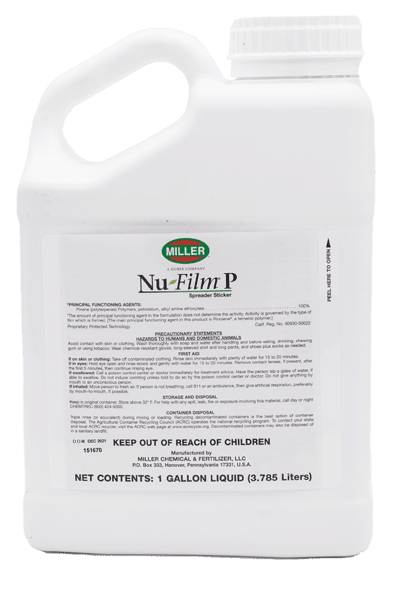 NU-Film-P is a superior sticking agent (also known as a spray adjuvant) designed for use with all pesticides on trees. It is compatible in the tank with all commercially-used pesticide products and soluble fertilizers. Nu-Film P forms a sticky, elastic film which tenaciously holds the pesticide on the foliage greatly reducing your application from rainfall or irrigation dilution. It will not freeze, foam or clog spray equipment and can withstand around one inch of rain for a 7-10 day period.
Active Ingredient: Poly-1-p-Methene
Packaging: 1 gallon (4 gal / case)
Rate: 4-6 oz / 100 gal water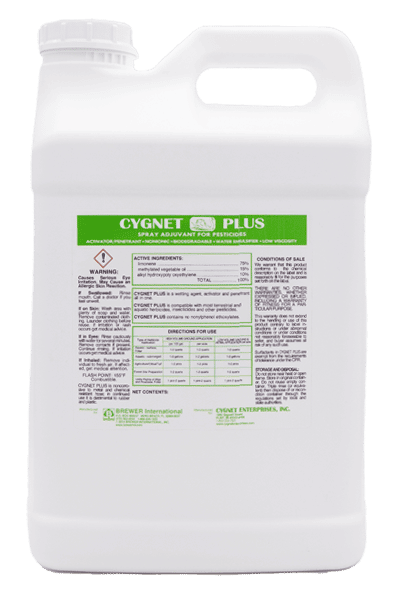 Cygnet Plus is a 100% active nonionic surfactant which is made from natural limonene taken from the bark of pine trees. Cygnet Plus, when added to herbicides or pesticides, will enhance their activity, reduce tension for better wetting, and has a natural sticking action. Cygnet Plus helps break down the waxy cuticle on the leaf surface allowing a more effective uptake of the herbicide. For turf or aquatic use only.
NOT FOR USE ON TREES!
Packaging: 2.5 gallon (5 gal / case), 30 gallon drum
Rate: 1 pint – 2 quarts / acre